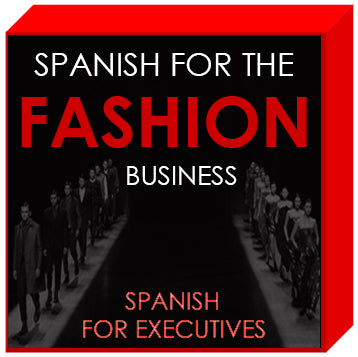 Spanish for THE FASHION BUSINESS by Spanish for Executives
Regular price £ 675.00 GBP Introductory offer
About the programme
Do you dream of fashion? Would love to develop your career in this industry in a Spanish speaking country? Do you have Spanish suppliers/clients? Do you need to talk with them in Spanish? 
Then SEARCH NO MORE.
You've just found a jewel: Welcome to the first Spanish course tailored to The Fashion business.  Only in Spanish for Executives.
Who is this programme for?
Fashionistas, Designers, Business owners, Buyers, Influencers, Bloggers and "Devil Wears Prada" fans.
If you live off or dream of the Fashion business you've just found your place.
Why is this programme for you? Our specialised Methodology:
In Spanish For Executives we're proud to offer this exclusive and revolutionary way to learn Spanish according to your industry and interests.
We've developed programmes following the advice of several industry experts, we've tailored the content to enable the students to learn Spanish with relevant topics. 
You will have a tutor just for you on exclusive one-to-one lessons.
Wherever the spot of the world you live, it doesn't matter! Its online design grants you worldwide access through your laptop or smartphone.
Content
We'll work out different topics related to the fashion business to discover and learn the Spanish language such as:
 Materials, techniques and procedures
 The big picture: Figures of the fashion industry
 Spain and LATAM: Our place in the fashion business scenario
 Spanish designers and Spanish brands
 History of Spanish fashion & Trends: What's next?  
 From brick and mortar to e-commerce and influencers: Fashion today
 Practical approach I: Shopping in Spanish

 Practical approach II: Negotiating with a fabric supplier

 Practical approach III: Expressing your vision of a fashion show
Spanish level
We offer 2 options:
Intermediate (from A2 to B2)
Advance (from B2 to C2)
Absolute beginners would not enjoy the programme, so we highly encourage you to take some language focused lessons before enrolling . 
How long does it last?
The programme lasts 15 hours. It's structured in ten 1-to-1 online lessons, up to 2 months; we will arrange before starting when would the lessons take place. 
In addition, we recommend about 30 to 50 hours of self-study. Bear in mind that you will be asked to complete some specific tasks as homework. 
Certificate
Once you've completed the programme, you would be able to decide if you want to pass an exam to obtain the Certificate.  
Life-like experience: the perfect way to put into practice 
After completing the programme you would be able to attend an exclusive Life-like experience related to the Fashion Business in Spanish: a perfect occasion to put into practice what you've learnt during the programme.
This option is available in Madrid and London; travel expenses and accommodation will not be covered. 
Eligibility
We chose carefully our students in order to deliver excellence.
We don't want you to lose your money and we don't want to lose our time and reputation, therefore please make sure to understand how we work and if you are eligible for the programme before purchasing. 
Special thanks