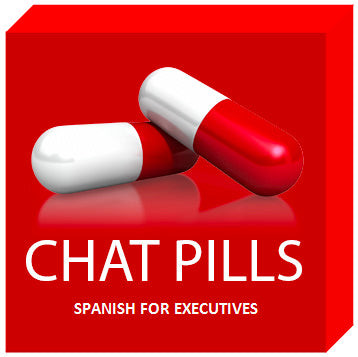 Chat pills / Master your small talk in Spanish!
Regular price £ 39.00 GBP Introductory offer
At Spanish for Executives we know about the importance of small talk in business social gatherings.
Are you good at grammar but wish you felt at ease in social situations with Spanish speakers? 
WE WILL HELP YOU MASTER SMALL TALK IN SPANISH TO FIGHT OFF THAT SOCIAL ANXIETY!
You will chat with experienced networker/s with strong professional backgrounds that will share with you tips, topics, and nice ways to deal with the experience. 
Each chat pill is a 20 minute condensed session of Spanish small talk training, fully adapted to your needs. Weekly programme also available.
Perfect to squeeze into your busy agenda.
 Important:
- We will send you a test to understand your needs. 
Examples of scenarios: Are you doing business in Argentina? Are you applying for a job in Madrid? Are you acquiring a company in Mexico?  Are you visiting your wife's family in Colombia? We can cover every level of conversation!
Available worldwide via videocall or regular telephone call. 
T&C apply.