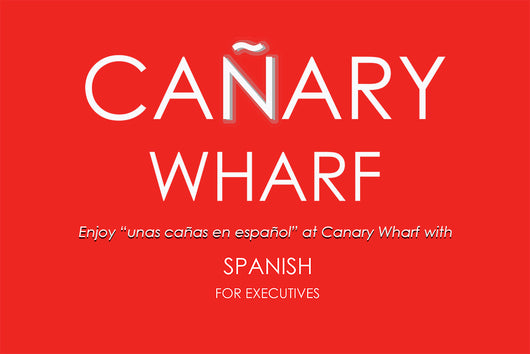 Cañary Wharf
Regular price £ 19.00 GBP Introductory offer
Cañary Wharf: Enjoy "unas cañas en español" at Canary Wharf
Spanish for Executives we are delighted to organise this "CAÑAS" (a.k.a informal drinks) to speak in Spanish in Canary Wharf with our students and friends.

Please, feel very welcome to join us if you are or a Spanish Student or a native who wants to have a nice evening meeting new and vibrant people.

***

******************** F.A.Q. ********************

********** Will you invite me to something to drink?

Yes! The price includes a glass of wine, a beer or a soft drink: up to you!

********** When does it take place

Tuesday is our day! 
 We'll start at 17:30 and we'll finish around 22:30. You can stay as many time as you want: just pop in to say hello and have some sparkling water or stay the whole evening sharing anecdotes and a laugh.
Please wait for a confirmation of the next edition.

********** I am a beginner in Spanish, is this for me?

Absolutely! We teach Spanish so we have created this Cañary Wharf to help our students to improve their fluency and feel the Spanish mood. Don't panic: you will find Spanish teachers around who will support you during the conversation. You are not expected to be bilingual, just to have a good attitude!

********** I am a Spanish native and I work in the area, can I pop in?

For sure! We are pretty sure that you will have a good time, don't hesitate to get your ticket!

We teach very interesting people and our friends are super cool, so, why not? We only ask you to try to don't swap to English as the purpose is to speak in Spanish!

********** Ey I am/ I used to be your student, do I have a discount!?  

Yes! Drop us a quick email and we will send you the code.

********** Where will it take place?

It will take place in Canary Wharf, vibrant business heart of London. We will reveal the details of the venue to our guests per email, so you first need to get your ticket!

********** What should I bring with me?

-Good attitude (mandatory)

-Business cards (optional, you never know!)

-Pen and paper (hopefully you will learn a lot!)

-Oyster card (At the end of the event you need to arrive home, don't you?)

********** Why are you guys always talking about Spanish for the REAL business world 

We are sure that there are millions of great academies in the world to learn Spanish... Present tenses, subjuntivo, "me gusta el verano"... Well, you know what we mean.

Spanish for Executives we know the importance of everything else: the big challenge to get into the real business, big corps and SMEs. All the cultural details to have in consideration at the same time, the etiquette, the "after-work", the timings: all the kind of things that you won't learn "filling the gaps".

You will love us.
Now the guest list is closed but you can join the waiting list: Join the list by sending an email to eventos@SpanishForExecutives.co.uk