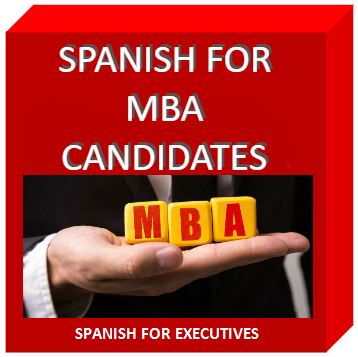 Spanish for MBA candidates by Spanish for Executives
Regular price £ 29.00 GBP Introductory offer
Spanish for Executives we are delighted to support the leaders of the future.
We offer to finance part of the private language tuition via our programme "BECA -  Spanish for Executives MBA candidates scholarship" promoted by Spanish for Executives Philanthropies. This is a private scholarship available to current:
- Master in business administration candidates and
- Master in International business administration candidates.
Lessons will be held online, by Skype or similar platforms, 1-to-1. 
Students awarded with this scholarship can benefit from it during the whole length of their MBA. Also 6 months prior the start and up to 6 months later.
--- 
To be eligible for this exclusive programme you need to:
Be a current MBA candidate and proof it with a letter of enrolment that may be verified.
Apply by sending an email with your cv and motivation letter to hola@SpanishForExecutives.co.uk (we will come back to you within 24 working hours).
Have the first lesson completely free of charge
Be accepted for the programme. 
Additional considerations:
Worldwide candidacies accepted.
C1 or Advance certificate in English language is mandatory.
Subject to availability.
Please do not purchase any lesson prior to Spanish for Executives acceptance.
T&C apply.
The aid would be granted as a non-repayable grant.